On March 21, we continue our attack on income inequality in Sunnyvale and Silicon Valley.  That Saturday we focus on employers' theft of their employees' wages.
Attorney Ruth Silver Taube will tell us about the wage theft going on in Sunnyvale. She will explain how our City can step up and stop wage theft, and she will tell us how to motivate our City to do just that.
According to court and labor department rulings, more than 1,300 Bay Area companies failed to pay workers nearly $20 million in wages in 2014.  These are the workers who can least afford to have their wages stolen.  Employers take advantage of these workers by demanding that they work long hours for illegally low pay or, in some instances, for no pay at all.
One of the worst offenders is the Crazy Buffet restaurant right here in Sunnyvale.
Here's a photo of Ruth Silver Taube at protest at the Crazy Buffet: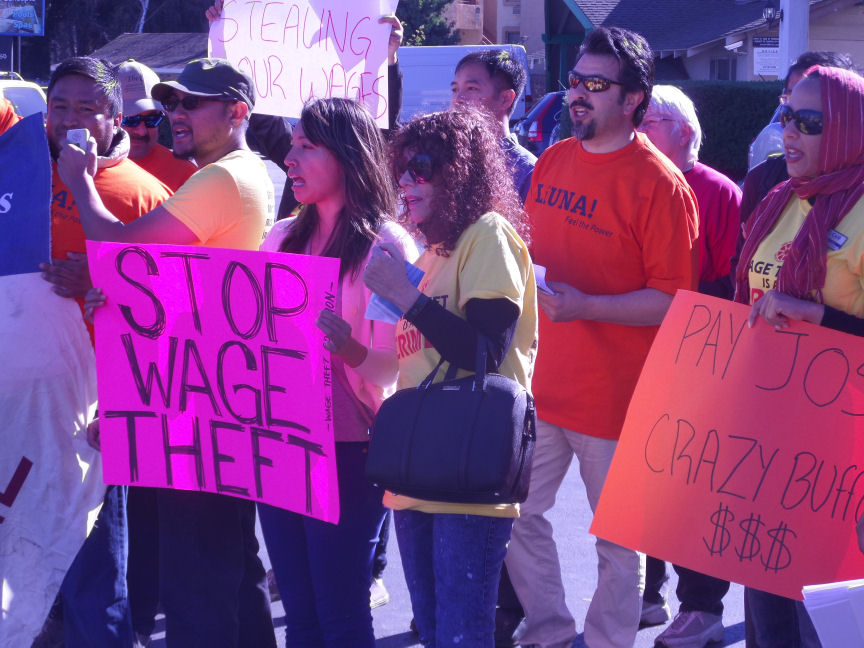 That's Ruth, right in the middle of the photo with the yellow shirt and the blue bag.
 Members of our Club, such as Richard Kolber, were at that protest.
And members of our Club, such as Delores Mendoza, were at the next protest at the Crazy Buffet.
Ruth Silver Taube is a Supervising Attorney of the Workers' Rights Clinic at the Katharine & George Alexander Community Law Center, and an Adjunct Professor of Santa Clara University School of Law. She is Special Counsel for the Legal Aid Society - Employment Law Center, and a partner at the Law Office of Silver & Taube.  She teaches a Workers' Rights' class at Santa Clara University School of Law that investigates retaliation claims filed with the Labor Commission. 
Ruth is also the Coordinator of the Santa Clara County Wage Theft Coalition, a founding member of the Bay Area Equal Pay Collaborative, Legal Services Chair of the South Bay Coalition to End Human Trafficking, and an alternate delegate to the Santa Clara County Human Trafficking Commission.  She has partnered with the Vietnamese American Bar Association of Northern California, the Filipino Bar Association, and the Pilipino Association of Workers and Immigrants to establish monthly community law clinics for Vietnamese American clients and quarterly clinics for Filipino clients. 
Before she went to law school, she was a journeyman machinist, President of IAM Local 547 in District 93, and a Senior Field Representative for SEIU 535.  After law school, she served as a law clerk to the Honorable Ronald M. Whyte, District Court Judge, Northern District of California, San Jose Division, and worked as a federal mediator for the Equal Employment Opportunity Commission and as a panel mediator for the U.S. Department of Justice, Civil Rights Division.   She is a frequent speaker on wage theft, employment law issues in human trafficking, equal pay, and domestic violence cases, and ERISA. 
She previously taught at Njala University College, in Sierra Leone, West Africa with the Canadian Peace Corps.  In 2013, she was the keynote speaker at the Vietnamese American Bar Association of Northern California's dinner and received the Unsung Hero Award from the Santa Clara County Victim Support Network and the Commitment Award from the Alexander Community Law Center.
We will also hear about the status of the Disclose Act.
And our committees will report on the status of their efforts and our plans for our ongoing attack on income inequality here in our home town.
Join us for doing good, camaraderie, and great snacks.