WELCOME
The Democratic Club of Sunnyvale is an active and welcoming group that promotes progressive, Democratic values and positions. We provide a welcoming group for those in the Sunnyvale, CA, area to meet and promote Democratic causes. Join us to meet other people in this major Silicon Valley city where you can make the most use of your Democratic ideas and energy!
---
Sunnyvale Democratic Club Endorsement Meetings:

Saturday, August 17th
The Sunnyvale Democratic Club will hold an ENDORSEMENT MEETING on Saturday, August 17th, starting at 1:45 pm at the Fairbrae Swim Club, 696 Sheraton Avenue, Sunnyvale. The candidate interviews are open to the public, but to vote you must be a member in good standing.
County Supervisor, District 3 - Kansen Chu, Magdalena Carrasco, Otto Lee
U.S. Representative CA17 - Ro Khanna (will appear via videotape)
---
Saturday, September 21st
State Senate District 13 - Josh Becker, Michael Brownrigg, Shelly Masur, Sally Leiber, Annie Oliva
State Assembly District 24 - Marc Berman


As always, meetings are free and open to the public.
Saturday * August 17th *  1:45 to 4pm

Saturday * September 21st *  2 to 4pm

Fairbrae Swim Club* 696 Sheraton Ave.* Sunnyvale

 
---
---
UPCOMING EVENTS and ACTIONS
---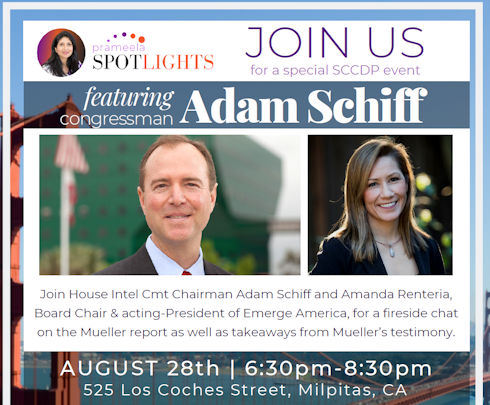 Rep. Adam Schiff will be in Milpitas for an event to benefit our Santa Clara County Democratic Party on Wednesday, August 28, 2019.  All proceeds will go to our local party.
The $50 tickets are available at least until next Wednesday, August 21.
Tickets can be purchased 
here
. 
For more information, download the full flyer.
---
Professor Larry Diamond and Ro Khanna 
at Sunnyvale Community Center Ballroom
September 4th, 7:30 - 9:00 PM
Members of Indivisible South Bay and Silicon Valley Courageous Resistance teamed up to organize this public forum featuring Congressman Ro Khanna (CA-17) and Professor Larry Diamond of Stanford, a world-renowned expert on democratic political systems, in a discussion with each other and with the audience, moderated by Mike McNerney. 
Congressman Ro Khanna and Professor Larry Diamond will discuss the decline of democracy around the world, threats to democratic institutions in our own country, Congressional oversight of the presidency of Donald Trump amidst growing calls for the opening of an impeachment inquiry, and ways to prevent foreign election interference in the 2020 election.

Click here for flyer and be sure to sign up for the event; and please share with anyone you know who cares about the future of our democracy. 

---
Sunnyvale Elections Community Outreach
Learn about the California Voting Rights Act (CVRA), how it impacts Sunnyvale, why the City is required to change our election system for Council members, and options being considered for a potential ballot measure at the City website: https://sunnyvaleelections.org/
Please contact Jaqui Guzman, the City's Deputy City Manager at JGuzman@sunnyvale.ca.gov or 408-730-7480 with any questions or comments. 
---
Club Committees
DCS currently has several active committees and task forces:
*NEW* Green New Deal Committee. Follow-up to our March meeting on the GND. To join or get on the email list, contact Linda Sell at lndsell@gmail.com.
*NEW*Committee for LGBT Outreach. For information, contact Richard Mehlinger at rmehlinger@gmail.co.
Affordable Housing Committee: Our Affordable Housing Committee has formed a coalition - Livable Sunnyvale- with Greenbelt Alliance, Friends of Caltrain, Sunnyvale Cool, SV@Home and other organizations to address the lack of affordable housing in Sunnyvale and other income equality issues. For more information check out livablesunnyvale.org. To join, contact sueserrone@comcast.net..
Wage Theft Committee: Working on issues related to stopping Wage Theft in our community. To join conact Carol Weiss at carolrlweiss@gmail.com.
Age Friendly Committee : Looking at ways to make Sunnyvale more Age Friendly. To join the committee, contact Nancy Smith at ncsmith@gmail.com
Hospitality Committee: Providing refreshments and other activities for our Club meetings. To support the committee or to volunteer to bring snacks contact Marge Goka at teardropowner@gmail.com.