The Democratic Club of Sunnyvale is an active and welcoming group that promotes progressive, Democratic values and positions. We provide a welcoming group for those in the Sunnyvale, CA, area to meet and promote Democratic causes. Join us to meet other people in this major Silicon Valley city where you can make the most use of your Democratic ideas and energy!
---
---
Next Meeting : Saturday, May 18th:
Sunnyvale District Elections - Next Steps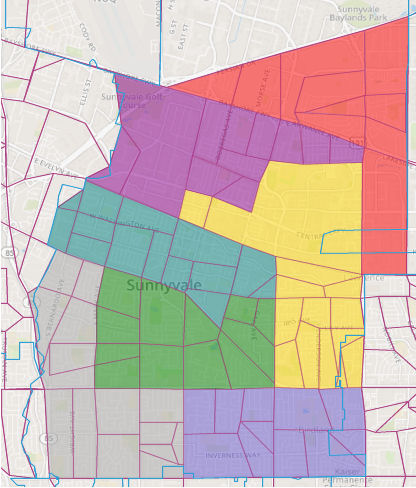 Sunnyvale is changing from at-large election of our City Council to district elections. There will be an amendment to the City charter on the March 2020 ballot. If approved, the November 2020 election will be under the new rules.
Following the City's outreach meetings, we will discuss pros and cons of various district implementations and how they relate to Sunnyvale demographics and our goal of increasing diversity in our local government.
This meeting is a perfect opportunity to get an update on this important issue and find out how you can make your voice heard before a final decision is made.
For more information check out the City of Sunnyvale site below or go to our summary of different options at Sunnyvale District Elections.
At the end of this meeting we will also hold the annual election of the Club Executive Board.
Sunnyvale Elections Community Outreach
Learn about the California Voting Rights Act (CVRA), how it impacts Sunnyvale, why the City is required to change our election system for Council members, and options being considered for a potential ballot measure at the City website: https://sunnyvaleelections.org/
Please contact Jaqui Guzman, the City's Deputy City Manager at JGuzman@sunnyvale.ca.gov or 408-730-7480 with any questions or comments. 
---
Club Committees
DCS currently has several active committees and task forces:
*NEW* Green New Deal Committee. Follow-up to our March meeting on the GND. To join or get on the email list, contact Linda Sell at lndsell@gmail.com.
*NEW*Committee for LGBT Outreach. For information, contact Richard Mehlinger at rmehlinger@gmail.co.
Affordable Housing Committee: Our Affordable Housing Committee has formed a coalition - Livable Sunnyvale- with Greenbelt Alliance, Friends of Caltrain, Sunnyvale Cool, SV@Home and other organizations to address the lack of affordable housing in Sunnyvale and other income equality issues. For more information check out livablesunnyvale.org. To join, contact sueserrone@comcast.net..
Wage Theft Committee: Working on issues related to stopping Wage Theft in our community. To join conact Carol Weiss at carolrlweiss@gmail.com.
Age Friendly Committee : Looking at ways to make Sunnyvale more Age Friendly. To join the committee, contact Nancy Smith at ncsmith@gmail.com
Hospitality Committee: Providing refreshments and other activities for our Club meetings. To support the committee or to volunteer to bring snacks contact Marge Goka at teardropowner@gmail.com.